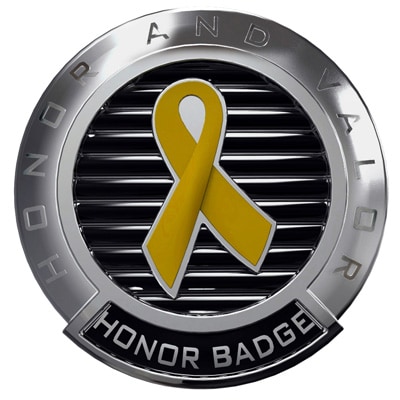 USAA Members get ADDITIONAL $750 OFF on select new Chevy's and
Cell Phones for Soldiers to get $100 for each Military Discount Sale in May


DETROIT: Chevrolet will salute the nation's active duty and retired service members in May by providing an exclusive "Honor" badge to customers who buy an eligible vehicle through the General Motors Military Discount program. The brand also will donate $100 to Cell Phone for Soldiers for each eligible vehicle sold.
"The men and women of the U.S. Armed Forces have given so much for so many," said Alan Batey, vice president, Chevrolet sales and service. "This is one small way Chevrolet can say 'Thank you.'"
During Military Appreciation Month, Chevrolet dealers will install, free upon request, the exclusive "Honor" badge, consisting of a yellow ribbon and "Honor" script, as a subtle recognition of military service to customers who buy an eligible Chevrolet through the GM Military Discount program.
The GM Military Discount is available to active, reserve and retired members and spouses of the U.S. Air Force, Army, Navy, Marines, National Guard and Coast Guard. The discount, ranging from $400 to $4,000, is available on most Chevrolet cars, trucks and crossovers, depending on the model and options selected. The discount can be combined with most current incentives.
The GM Military Discount offers an additional $750 discount on selected Chevrolet vehicles to eligible members of USAA, a leading financial services and insurance provider for military families. To date, 169,000 vehicles have been sold taking advantage of the USAA incentive.
"It's so good to see companies like Chevrolet step up to celebrate our service members," said Mel Otte, a disabled Air Force veteran who spent 13 years in the service. "Every time I look at my Chevrolet honor badge, I pause to remember my brethren, many of whom have sacrificed their lives in service to our country."
Since 2010, Chevrolet and its dealers have collected more than 103,000 lightly used devices for Cell Phones for Soldiers, and converted them to 6.2 million minutes of free talk time for troops serving overseas.
General Motors has supported the U.S. military since 1917, when 90 percent of GM's truck production was directed toward WWI manufacturing. During WWII, GM converted all its plant facilities in support of President Franklin D. Roosevelt's call for an "Arsenal of Democracy." The value of all war products delivered by GM to WWII efforts totaled more than $12 billion. GM is the largest commercial provider of military vehicles in history.
About General Motors Military Efforts
With nearly 5,000 military veteran employees, General Motors' support for the United States armed forces spans generations. Today, Chevrolet assists Cell Phones for Soldiers, Achilles Freedom Team of Wounded Veterans, the Fallen and Wounded Soldiers Fund, a variety of employment and grassroots initiatives, and is the Official Vehicle of the Army-Navy game. The GM Military Discount program offers the industry's best discounts on most Chevrolet, Buick and GMC vehicles for active-duty, reserve and retired service members and their spouses.

About Cell Phones for Soldier
Cell Phones for Soldiers Inc. (CPFS) is a 501(c)(3) non-profit organization dedicated to providing deployed and returning troops cost-free methods to communicate with family while serving in the United States military. Based in Norwell, Mass., CPFS was founded in 2004 by Robbie and Brittany Bergquist, then 12 and 13 years old. From the recycling of used mobile phones and cash donations, the organization has raised more than $7 million, collected more than 8.3 million cell phones and provided troops overseas with more than 114 million minutes of free talk time.